By Bob Lear, W4ZST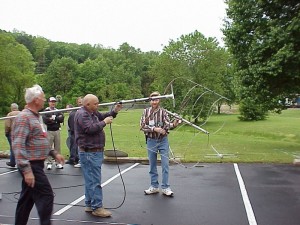 The Seventh Annual SVHFS Conference was held at the Space Center Marriott Hotel in Huntsville, AL on April 25th and 26th 2003. A thunderstorm interrupted the outdoor antenna range activities for a short time Friday morning, but all the testing was completed along with the "Mouser Back-Scratcher" 1296 antenna competition. The Noise Figure/Pre-Amp Gain testing going on inside went well also.
Another highlight on Friday morning was the Surface Mount assembly and Soldering Seminar given by Steve Kostro N2CEI of DownEast Microwave. Photos of all these activities will be in the photo gallery here on SVHFS website. The program began as scheduled Friday at 1 PM with conference welcomes by Chairman Robin Midgett KB4IDC and Program Chairman Dick Hanson K5AND. There were some changes to the original schedule because some of our members and presenters were unable to attend at the last minute. We had several folks step forward to help fill the program with more quality presentations that were of course past the publication deadline, but appreciated and enjoyed by all attending. The Friday afternoon program included interesting presentations by Tom Haddon K5VH on microwave antennas, Ray Rector WA4NJP on EME Today, Bruce Clark K0YW on Project Diana (A history of EME) and Dick Hanson K5AND on his Toroidal transformer HV power supply and the VP2MJD DXpedition.
The Annual Meeting was held Friday afternoon by President Jim Worsham W4KXY who welcomed all and gave an overview of the society and reporting that our finances are good and that the society annually supports the ARRL Frequency Defense Fund, Amsat and the SVHFS Beacons. After these things are taken care of the society will still have enough cash left over to initiate the next conference. Jim also explained that the society membership at large elects BOD members and the board elects officers at the annual BOD meeting and all members are invited. He discussed conference committee duties and called for volunteers. Also discussed were possible future venues for the conference at any southeastern location.
Nominations for BOD were called for and the following six members were nominated and elected at the meeting: Wayne Gardner N4FLM, Skip Coppola KG4QDZ, John England K4RIG, Brian McCarthy NX9O, Fred Runkle K4KAZ and Tom Haddon K5VH. Congratulations to these new board members. Their two year terms begin immediately and along with the other continuing BOD members; they will conduct the yearly business of SVHFS and elect officers at the BOD meeting at 9PM Friday evening. Jim also reminded everyone about the flea market and Saturday afternoon auction. He asked for donations to the auction. The drawing for the Bird Watt Meter pre-registration door prize was won by Tom Reddeck W4VHH.
A great time was had at the Friday night flea market where there was great attendance, some cash and gear changing hands and some deals being made. The vendor display room also had plenty of traffic.
Board of Directors Meeting highlights:
Conference report given by KB4IDC with a thank you to all volunteers as no problems had occurred and the hotel facilities and service are excellent.
A donation was made to the HAYLARC club in appreciation of their help with the family program along with SVHFS certificates of appreciation to the participating members.
Motions were made and passed to continue to support the ARRL Frequency Defense Fund, AMSAT, the SVHFS beacons and to continue to sponsor two plaques for the ARRL June VHF QSO Party.
A proposal from Mini-Circuits for a joint annual design award was presented by K5AND. K4CSO agreed to be the award committee chairman, K5AND will serve as Mini-Circuits/SVHFS liaison. Further information about this design award competition will be forthcoming when the committee and Mini-Circuits have worked out the details. Our thanks to Mini-Circuits President Harvey Kaylie for this generous offer.
A motion was made and passed to sponsor and administer a "Worked all EM Field award". Rules to be established by committee, chairman to be appointed by president.
Steve Kostro N2CEI offered to sponsor awards for 222 and Microwave Fall Sprints based on a drawing of participants at the annual SVHFS conference.
A motion was made and passed to hold the 2004 conference in the Atlanta Area. 2004 committee members volunteering at the meeting included: Greg Robinson KB4NVD as publicity chairman and also to pick up duties as SVHFS Webmaster. Wayne Gardner N4FLM as registration chairman. John Clowe W4ZPG as prize chairman. Dick Hanson K5AND as 2004 conference chairman. Jim Worsham as Fall Sprint Chairman and Ray Rector WA4NJP as Technical Program Chairman.
Officer nominations and elections were held with the following new Officers for 2003-4: Treasurer: Brian McCarthy NX9O; Secretary: Bob Lear K4SZ; VP: Skip Coppola KG4QDZ; President: Bert Rollen K4AR.
The Saturday conference program continued with good attendance. Presentations were made by Ott Fiebel W4WSR on Signal sources and preamps, Chris Imlay W3KD, ARRL General Counsel, on Regulatory issues in Amateur Radio, Steve Kostro N2CEI on Interfacing transverters to the Elecraft K2, Paul Goble ND2X on Russian Power Tubes, Al Ward W5LUA on Design Techniques for VHF and UHF LNA's, Bob Lear K4SZ showed a video tape of the FourLanders W4NH September 2003 VHF contest effort and the program was completed with a presentation by Charles Osborne K4CSO, Moe Wheatley AE4JY and Pieter Ibelings N4IP on DSP, Software and a Software Defined Receiver (SDR).
SVHFS Certificates of Appreciation were given to each of the program presenters by the program chairman. The Auction as always was a conference high point with our irrepressible auctioneer Ray Rector WA4NJP cajoling the membership into some great bidding on a record number of donated auction items which added to the SVHFS treasury. Thanks to all for their donations and purchases and support of SVHFS.
The Saturday evening Banquet was also well-attended. After the great meal provided by the Hotel catering service, the evening festivities began with out-going president Jim Worsham K4KXY introducing the new president Bert Rollen K4AR, the other new officers and BOD members, and announcing that the conference would be in Atlanta next year and the committee members who had volunteered. This prompted offers from David Rice KD4SHH, Jeff Pahl KF4JVD and John Logsdon K2STO to handle the Antenna Range next year, Sandy Donahue W4RU offered to be Facilities Chairman and Al Ward W5LUA offered to do the NF testing again. 2004 is off to a great start. Charles Osborne K4CSO announced the Antenna Range results and presented certificates to the band gain winners for HB antennas. Charles also presented a certificate to Tom Reddeck W4VHH for building the highest gain 1296 "Backscratcher" Antenna. It was announced that next year's competition will be for 2304 MHz Backscratchers.
Charles also publicly announced the Mini-Circuits/SVHFS Design Award competition and reported that Al Ward W5LUA and Steve Kostro N2CEI will be on the committee with him. Watch the SVHFS web page for further details. Fred Runkle K4KAZ announced results of the NF measurements made Friday and presented certificates to those with the lowest NF numbers for each band submitted. Jim Worsham W4KXY announced the winners and presented the First Place Plaques and second and third place certificates to winners of the 2003 Fall Sprints who were present. Jim also presented the 2003 K4UHF Award to James "Bunky" Botts K4EJQ for his continuing service to the VHF community.
Our Banquet Speaker was Dr. Thomas Richardson, Technical Director of the Missile and Space Intelligence Center who gave an interesting presentation on Weapons of Mass Destruction and Missiles produced and in use around the world. He showed us many photos, diagrams and specifications of the missiles. Thanks to Dr. Richardson and his wife for attending our banquet and his presentation.
Last but not least were the door prize drawings. As always, the prize committee has done a great job of collecting not only a large number of prizes but many substantial prizes as well. Everyone present received multiple prizes and our thanks go out to all the vendors who contributed the great prizes. Show your appreciation by trading with these generous folks and letting them know you attend the SVHFS conference and support them. The prize numbers were called by K4SZ again this year. Also drawn were the 222 and microwave Fall Sprint participant DEMI gift certificate winners, both of which were won by W3IY. Congratulations to all our door prize winners, NF and Antenna competition winners, Sprint winners and the K4UHF recipient. Thanks to all who attended the conference and all the volunteers who made it happen. Plan to join us next year for another great time at the Southeastern VHF Society Conference.